When I'm working hard on something, one of the things I like to do is imagine what success will look like. So I've constructed a number of scenarios, over the years, for what it would look like to sell my first book. They became pretty realistic, what with my career in the bookselling business, my posse of working writer friends, and my own recent time in the short-fiction trenches.
In fact, my scenarios had become so realistic that when the call finally came, I split in two: one of me, Business Me, recognized that my predictions had been accurate and was satisfied and pleased and totally unsurprised, and the other me, the one who's been dreaming of this since childhood, was pretty much like this: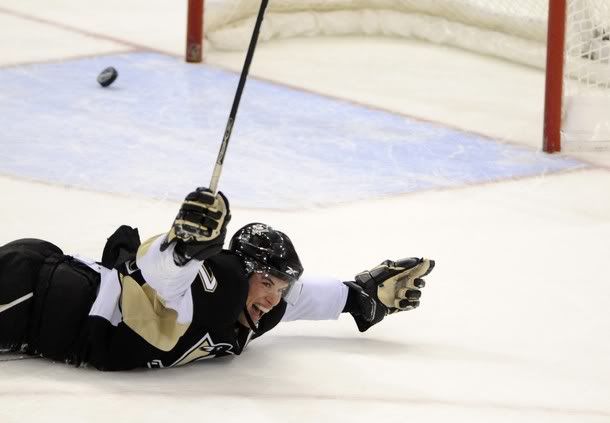 That's Sidney Crosby scoring a hat trick, in case you were wondering. He looks kind of cheerful about it. But I'll tell you all about my recent hockey obsession another day, because the important thing about this post is that I have a book deal.
It's currently called KINSHIP but that's probably going to change; it's coming out with Thomas Dunne in spring of 2016. My agent, Connor Goldsmith of Fuse Literary, arranged the deal with Thomas Dunne editor Quressa Robinson. Here's a picture of the announcement in Publishers' Marketplace:
Connor posted about it days ago, because he's great. As for me, well, the deal announcement went out while I was in the middle of an enormous annual business trip, and I barely had the bandwidth to keep on top of my exploding Twitter, let alone post to this blog. (Which is probably good in hindsight, because this post didn't need like 95 more pictures of hockey players celebrating stuff, no matter how completely they encapsulated my feelings on that day.)
Now I'm back and things are settling and instead of getting less excited, I'm finding the opposite. I'm excited about a whole new thing: this book is going out into the world. Strangers are going to read it and have feelings about it and I may never even know what it does and where it goes.
This, friends, is what it's all about. The alchemy that happens between the book and its readers. Far out of my reach and sight, this book is going to do its work. I hope it works well.